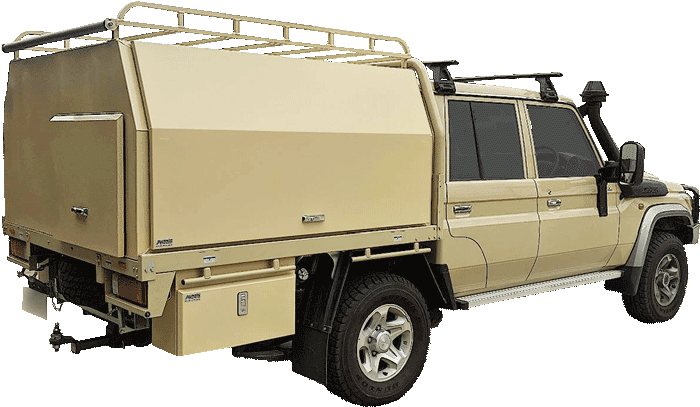 Fabricating high-quality aluminium ute tool boxes
Fully customised to your requirements whatever industry you are in

If you're looking for a storage solution to keep organised then ute tool boxes are a great answer. Here are our standard range of aluminium tool boxes:
Aussie Tool Boxes is an Australian owned and operated business with over 12 years experience specialising in the design and manufacture of high quality aluminium ute, truck, and caravan tool boxes.
We are pleased to say our customers now come from all over Melbourne, regional areas and interstate with our product range extending to include canopies and lift off-trays for utes, suitable for trade or camping.
Aussie Tool Boxes fabricate high-quality aluminium ute tool boxes that are fully customised to your requirements whatever industry you are in. Accessing your tools, parts and equipment has never been easier. If you're looking for a storage solution to keep organised then ute tool boxes are a great answer.
Please call for pricing on our standard range, all tool boxes are made to order, and lead times vary according to current work load.
Through our extensive industry experience we understand the needs of our clients. Keeping your valuable tools, equipment and parts of any shape and size secure and organised is paramount and our speciality, we'll help you access it easier.
Below are showcased our standard range of premium 2 mm marine grade tread plate aluminium toolboxes. This is checker plate aluminium, fitted with full-length stainless steel piano hinges that are fixed with stainless steel rivets, high quality gas struts are fitted to all our tool boxes as required. We also include in our build weather resistant locks and pinch weld to ensure no dust or water enter your storage solution. Our ute tool boxes are built tough for tough conditions.
We are a custom ute toolbox fabricators and are able to build these boxes at any length you require up to 2400 mm long, we also provide adjustable shelving solutions to make sure access and storage is as seamless as possible. We take great pride in our work and will consult you on an effective operational toolbox design or point out any pitfalls a design may have regarding functionality, so you do not have to live with an oversight for the toolbox's lifespan.
Tools and parts are valuable, all toolboxes in our standard range are durable and manufactured from the highest quality;
2 mm marine grade tread plate aluminium (checker plate aluminium)
Fitted with full-length stainless steel piano hinges fixed with stainless steel rivets
Weather resistant locks
Pinch weld dust and water sealing
Quality gas struts are fitted to all our tool boxes as required.
Adjustable shelving is available, or we are able to custom build shelving to suit your needs. We can also fabricate aluminium tool boxes to your own design and would be pleased to provide a quotation.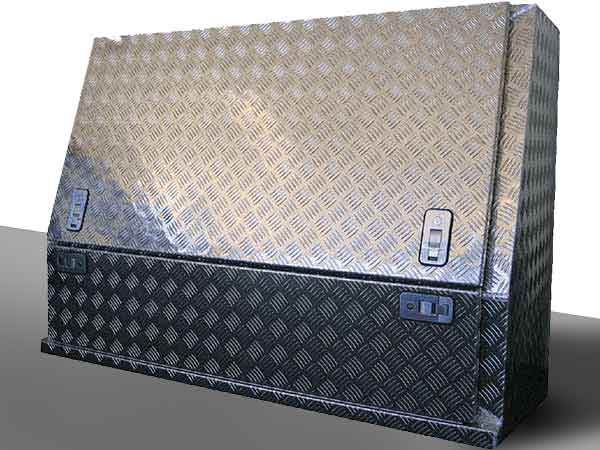 Our aluminium ute canopy is suitable for a vast range of tasks whether it be for tradesmen, campers, four-wheel drivers and alike. Our high-quality durable ute canopies are built tough, so your equipment, tools, parts and important bits and pieces are secure during harsh weather and driving conditions.
Aussie Tool Boxes ute canopies are fabricated from tough 2 mm marine grade tread plate aluminium as standard. This makes our canopies lightweight without sacrificing strength. Tread plate aluminium is heavy-duty and gives you a durable finish that will keep it, and your ute, performing and looking good over the long term.
Aussie tool boxes canopies are fully sealed to keep water and dust out, we use a quality pinch weld seal around the doors, thereby protecting your valuable tools and equipment. The canopy doors are fitted using stainless steel piano hinges, fixed with stainless steel rivets. When fixed this way, it gives the ultimate in strength, and will take all you can throw at it.
Security should not be taken lightly, when it comes to locks and security for your ute canopy, we use a quality swing handle with centre tongue, and rod shoots to each end of the door as standard. These locks offer ease of use, with the high security of three-point locking. We were also able to supply optional electric locking handles upon request, as well as other lock types if you prefer.
Our standard aluminium ute canopies are available in either two or three door options, other custom door options are also available. Internal fit outs of shelving, drawers, or racks built to your individual requirements, are also available, give us a call to discuss.
We design and make canopies to suit a range of different ute makes and models from single cab, dual cab to extended cab. If you require a lift-off canopy or aluminium tradesman style roof racks we can fabricate that for you as well.
Standard aluminium ute canopy specifications;
Permanently fixed with no floor
Permanently fixed with a sheet floor
Lift-off option with structural zinc steel floor frame, including side wind jacks to allow easy removal of the canopy from your ute.
Material – 2 mm Aluminium tread plate standard, 2.5 mm tread plate and 2.5 mm flat sheet available on request
Quality Gas struts fitted to all doors
Full-length stainless steel hinge fitted to doors
Fully sealed to prevent ingress of water and dust around the doors, not the opening where the seal can be easily damaged
Swing handle lock, with rod shoots to door ends
Size – Custom-built to suit your tray up to a maximum of 2400 mm(L)x2000 mm(W)x900 mm(H) at standard pricing, larger sizes and custom profiles priced on application.
Aluminium tradesman style roof racks, powder coating and a lift-off canopy model options are available.
We make canopies for all popular makes and models of ute, in any length to suit, single cab, extended cab, & dual cab such as;
Ford Ranger
Ford Falcon
Holden Colorado
Holden Commodore
Isuzu D-Max
Mazda BT-50
Mitsubishi Triton
Nissan Navara
Nissan Patrol
Toyota Land Cruiser
Toyota Hilux
Volkswagen Amorok
Please note, canopies and lift-off trays are made-to-measure products and must be fitted at our workshop to ensure the perfect fit.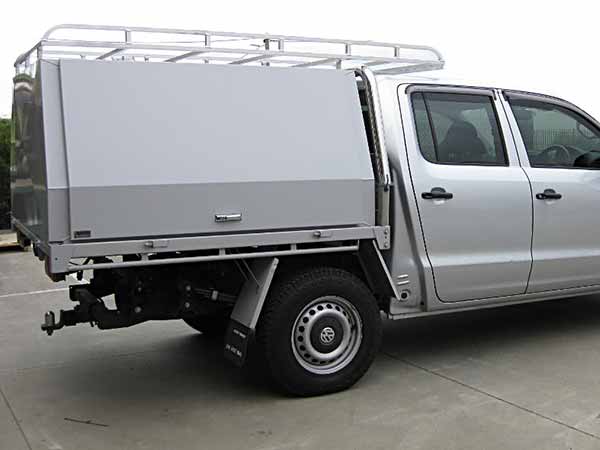 Are you looking to be a bit more organised?
Our Aluminium toolbox drawers make it easy to access to your tools and parts and keep you organised. Although shelving is a great storage solution, utilising toolbox drawers in your ute is a smart way to store your smaller bits and pieces. These drawer systems keep your smaller parts and tools safely contained within their own compartment so there is no need to worry about losing them.
At Aussie Tool Boxes we have the trusted knowledge and expertise to custom design and fabricate drawer systems for your ute that are specific to your requirements. Aluminium toolbox drawers are a durable system that will give you peace of mind knowing your tools and parts are exactly where you left them.
We use quality tracks from light duty, through to heavy-duty applications. Depending on what you require our drawers can be supplied using either locking or non-locking style slides. All of our toolbox drawers are built on the premises and to the highest quality and standard. This gives peace of mind knowing that they are built to your exact requirements. You can have confidence that with Aussie Tool Boxes, your toolbox drawers won't be moving around while driving.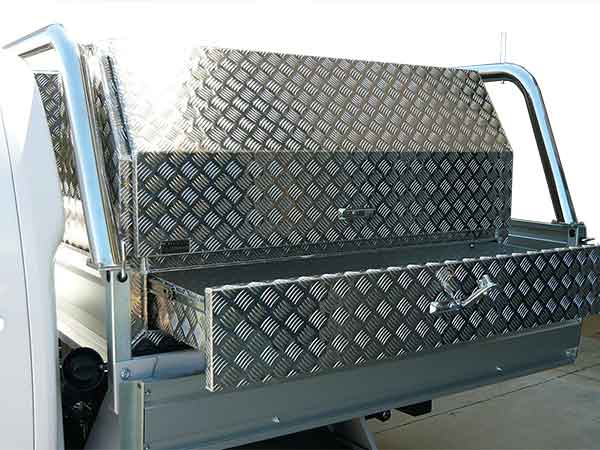 Do you want to free up space and get more out of the cabin of your ute? If you're in need of a bit more room for smaller bits and pieces, then an under body tool box might be a perfect solution for you.
Our under body toolboxes allow for extra external storage capacity that is fitted underneath your ute tray. This provides an easy point of access for your smaller tools, parts and equipment. Don't just let this space go to waste, we have standard aluminium under body tool boxes that fit many different applications. At Aussie Tool Boxes we can design and custom fabricate for your vehicle and requirements, to help get the job done easier.
At Aussie Tool Boxes we take great pride in the work we do and aim to provide not only quality workmanship but a durable product that will last through whatever you throw at it.
Do you want to make sure your tools, parts and equipment are secure?
Our under tray tool boxes are built from tough aluminium tread plate with a minimum thickness of 2mm, many in the industry are building boxes with a lighter material than this. Beware of inferior materials, although it may be a bit cheaper, it can cost more in the long run. Lighter materials used for a ute under tray toolbox simply won't stand up to the abuse of heavier materials.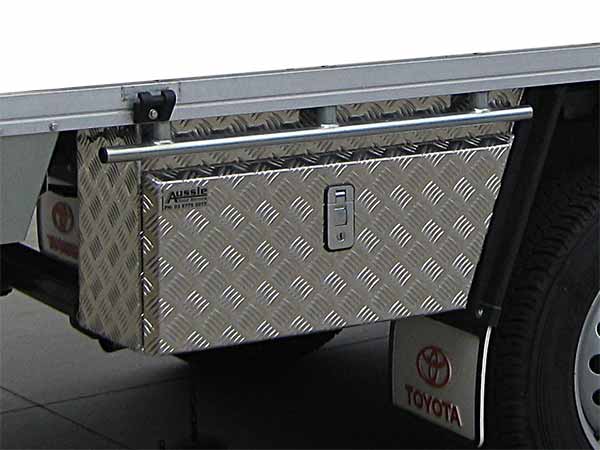 Want to do more with your ute on the weekend? A lift-off-tray could be the solution you are after, it will enable you to turn your work vehicle into a recreational vehicle in minutes, it's like having two vehicles for the price of one.
Our range of Lift-off-trays are the perfect solution for those that enjoy using their truck for recreational activities or simply need to leave tools, parts or equipment on site. Our tradie tough fabricated lift-off-tray means during the week you can get the job done safely and securely and also have the flexibility of room for recreational gear for the weekend.
At Aussie Tool Boxes we will have custom design and fabricate your lift-off-tray, so it fits securely over your existing tray, we use a strong 2.5 mm aluminium tread plate deck with a galvanised steel frame for added strength.
A lift-off-tray allows you to remove your work gear in minutes with removable side-wind jacks and transform your vehicle into an all-purpose truck.
Our lift-off-tray can be purchased as a single stand-alone unit, or we can help design and fabricate to your requirements a choice of tool boxes or canopies to help with access and storage.
Please note, canopies and lift-off trays are made-to-measure products and must be fitted at our workshop.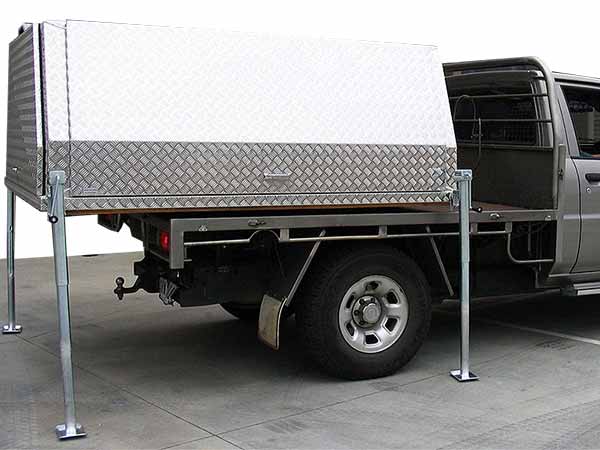 We make canopies for all popular makes